How Much Does an Outdoor Kitchen Cost?
It can cost anywhere between £3,000-£10,000 to install an outdoor kitchen, but it really depends how basic or advanced you want the kitchen to be. Some people choose to simply have a BBQ island with some countertop space, whilst others might want a fridge, full food preparation areas and a tap + sink.
---
What is Required for an Outdoor Kitchen?
The key elements for an outdoor kitchen are as follows:
Worktops

Cupboards & shelving

Tap + sink

BBQ

Seating areas

Utensils & Chopping Boards
---
​Outdoor Kitchen Cabinets & DIY
You should avoid using wood for outdoor kitchen cabinets, unless the whole kitchen is undercover, as this material isn't too appropriate for wet weather conditions. One of the best materials to use is stainless steel as it's durable and has a good resistance to rust. 
The best way to build an outdoor kitchen on a budget is to use upcycled materials such as reclaimed wood, bricks and other sturdy substances. Bricks are great for outside spaces and can be used to build your own kitchen islands, like the one below.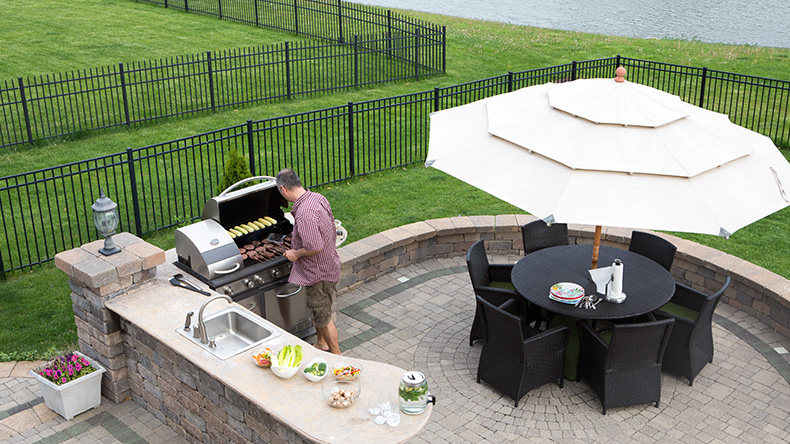 Outdoor Kitchen Worktops
The material you choose for your outdoor kitchen worktops should be resistant to water, temperature changes, heat and sunlight. You should avoid materials such as quartz as it's susceptible to fading and surface breakdown when exposed to outdoor elements and water. Wood and laminate are also poor choices for outdoor kitchens.
The best materials for outside kitchen worktops are non-porous granite and ceramic tiles. Granite is a tough and durable material that will withstand the weather and wear & tear of outdoor entertaining. Granite tile countertops are more stylish and can be cheaper than a full-slab granite countertop.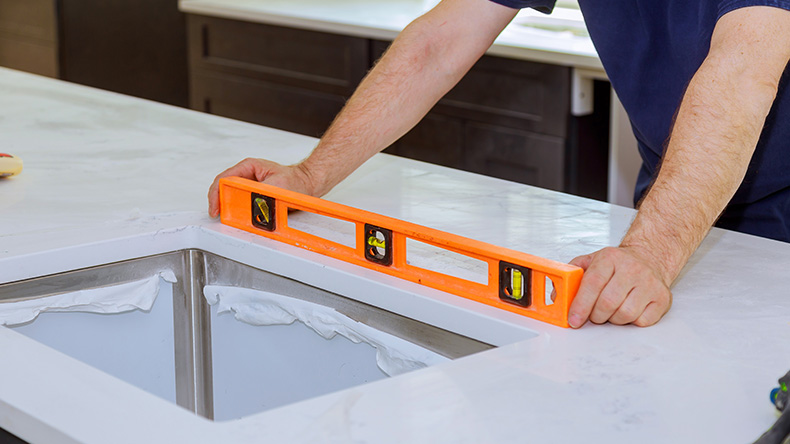 Outdoor Tap & Sink
One of the best sink materials for outdoor kitchens are ceramic sinks as they are robust, can withstand heat and offer a fresh, clean look. Stainless steel sinks are also great options as this material resists rust and corrosion and is also resistant to heat. 
Pull-out taps are great for any food preparation area, as they can help to reach every area of your sink, help with washing up effectively and fill up pots and pans with ease.
Please be aware that our products cannot be used for outside use as this will void the guarantee.
Outdoor Kitchen Design Inspiration
The most popular outdoor kitchens are L-shaped with a kitchen island and a seating area for guests. Kitchen islands with bar stools and pendant lighting can give a homely vibe and will give the feel of a luxury, holiday bar area!
Bricks can be used to give an industrial touch to the space, and look ideal when paired with stainless steel appliances and dark woods. Many people choose to blend their outdoor kitchen space with the exterior of the house to give a more streamlined finish and rustic effect.
Small Outdoor Kitchen Ideas
If you don't have much outdoor space to play with, it doesn't mean you can't install an outside kitchen! If you keep to the essentials, such as worktops, food preparation areas and a BBQ, you really don't need the luxury appliances such as a fridge, tap and sink. 
You don't even need to install cabinets but can instead set up some floating shelves onto the back of your house to store equipment like BBQ utensils and chopping boards.
---
We predict that many more people will be installing outdoor kitchens in their homes in the next few years, and it's a great way to add value to your home. Take a look at our small kitchen ideas guide for more home inspiration if you're tight on space.