As we move into a new year, now is the perfect time to transform your bathroom. Whether you want to fit some new taps or go for a complete redesign, choosing the right styles and colours is tricky. That's where our 2023 bathroom ideas guide comes in. We've collated all the trends we think will be popular in 2023, to give you all the ideas you need to create your perfect bathroom.
Our 2023 Bathroom Ideas:
Minimalism
Minimalism is one of our favourite contemporary bathroom ideas as it incorporates a touch of personal style but keeps that clutter-free look we all dream of. If you want to create a space that's relaxing and easy to clean, a minimalist bathroom is for you.

Minimalist bathrooms are all about keeping your bathroom colours neutral and subtle, whilst avoiding too many patterns. This will help keep your bathroom design look nothing other than clean and tranquil.
Dark Blues:
Dark blue and navy finishes is something we're seeing more and more in British bathrooms. Dark tones can help create a modern aesthetic but they will often make a bathroom feel too dark. Using a darker finish with a touch of colour can help the space feel a bit brighter. Navy is also a colour which will complement white ceramics really well. This means you can add in a dark blue vanity unit or cabinet without needing to replace your entire bathroom. 
Wood
Wood bathroom furniture can help soften the look of your bathroom whilst also adding some more organic textures. Light wood finishes can be paired with white sanitaryware and walls to create a light, minimalist space.
As working from home is likely to become normality for many more of us in 2023, it's going to be important to bring touches of nature into our homes. This is why we feel natural finishes will be increasingly popular. 
Concrete Bathroom Ideas
On the other end of the spectrum to wood finishes, we have the rise of industrial bathroom design and the concrete aesthetic.  
For some concrete bathroom decor ideas, you could try minimalist white ceramics paired with a striking concrete-effect wallpaper. Alternatively, switch things up and opt for a neutral wall and floor with one of our stunning concrete vanity units to combine style and practical storage space.
Another of our favourite contemporary bathroom design ideas is matching our concrete vanity units with some striking matt black tapware for a truly modern bathroom aesthetic.
Industrial Design
Industrial design has been growing in popularity in kitchens and this philosophy is now beginning to make its way across to bathrooms. Featuring metallic finishes, solid woods and bare brick walls, it's an ultra modern design style which will give your home the feel of a stylish New York apartment.
If you want to create your own industrial bathroom, it's time to move away from the classic glossy white finishes. A concrete vanity unit is a great starting point with its strong, slightly rough looks. When choosing taps, matt black is a great choice but you should also consider metallic finishes with slightly more rustic textures such as brushed brass or copper.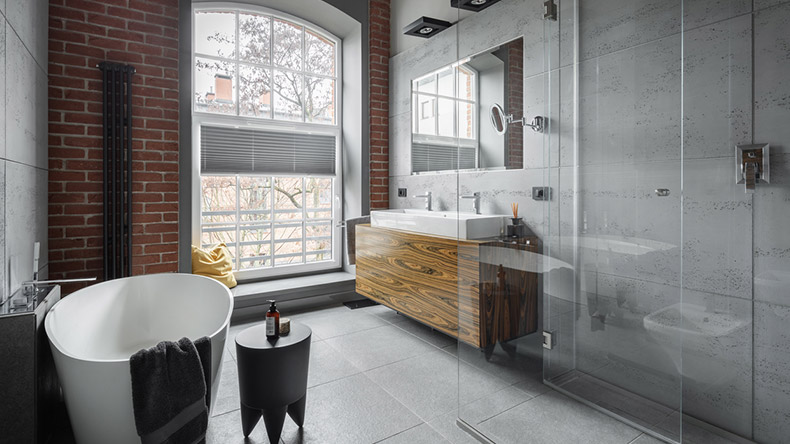 Smart Mirrors
Our homes are becoming increasingly connected to our mobile devices and the bathroom is no different. Bluetooth bathroom mirrors are becoming increasingly popular and 2023 is the year you need to install one in your bathroom. Say goodbye to your clunky shower speaker or radio and connect your phone to your bathroom mirror, so you can enjoy your favourite music in the shower.
Bathroom Plants
Bringing a piece of the natural world inside your home can have a whole host of benefits including improving air quality and boosting your mood. They can also bring some colour and life into your bathroom, particularly important if your design includes a lot of dark colours. If you're not sure which house plants are right for your bathroom, take a look at our guide to the most popular house plants in the UK.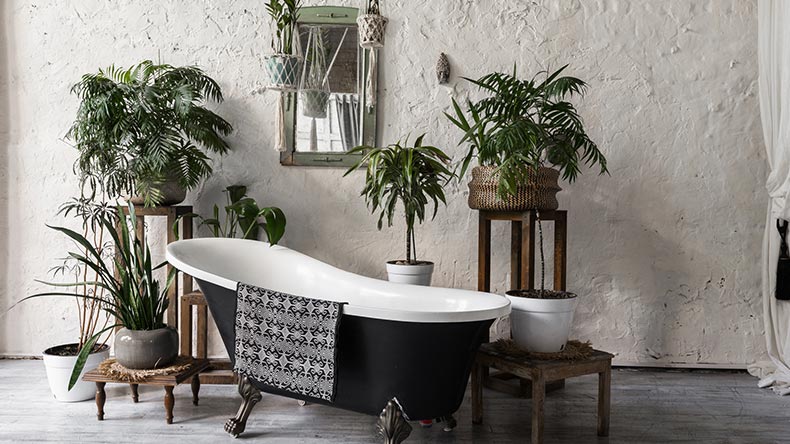 Bathroom With A View
As architecture moves towards homes with more windows and open spaces, we are seeing a rise in the popularity of open bathrooms. 
We would describe these as bathrooms with a large window, usually with a view, which allows a lot of sunlight in. Think of the images you've seen on Instagram of bathtubs facing beautiful beaches.
This is something which initially became popular in luxury hotels but is now becoming popular in homes with a view. The majority of these bathrooms will have windows which only allow you to see out. This means you can enjoy the views without worrying about who can see inside.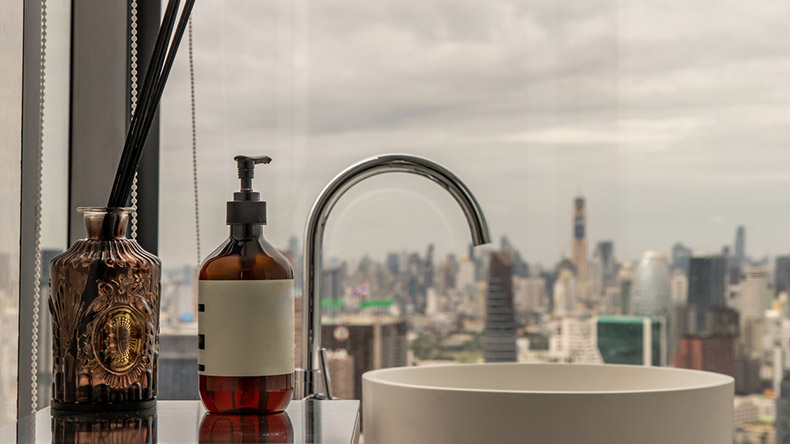 Gold Bathroom Decor Ideas
A touch of gold can give your bathroom the look of a luxury hotel if done right. There's no need to worry if you're struggling with a search for small bathroom ideas, the beauty of adding gold to your bathroom is that it looks best in small doses. There's simply no need for an all-out eyesore of all gold tiles, vanity units, bath and toilet. We recommend adding gold sparingly to achieve a truly statement look.
Exposed Shower Pipework
Exposed shower pipework is increasing in popularity as it will look great in both modern and traditional bathrooms. 
For example, a traditional exposed shower set features design elements such as lever handles and a bell shaped shower head, perfect for complementing crosshead or lever head taps. A modern exposed shower set will feature contemporary angular or square designs to help you create the feel of a luxury hotel.
Pink Bathrooms
You may have thought they'd gone away forever, but pink bathrooms are officially back! Although we may not be seeing the return of pink toilets and basins, pink bathroom walls and accessories are certainly coming back into our bathrooms.
Pink is a colour which is ideal for bathrooms as it pairs very well with the white sanitaryware found in the majority of bathrooms. It can also look great when paired with light woods or even copper or gold taps.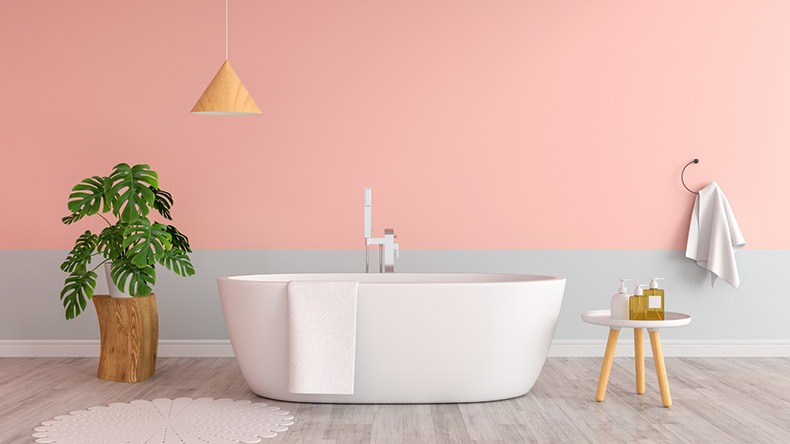 Bathroom Wallpaper
As bathroom design is changing alongside our technological developments, the delights of waterproof bathroom wallpaper can now be enjoyed by homeowners everywhere. No longer are we restricted to tiling in the bathroom; instead, you can opt for any 'wash resistant' wallpaper of your choice that can survive the humidity and splash-prone state of your bathroom. 
For a more understated look, we recommend adding wallpaper to only one of your walls, instead of all of them, for a more subtle touch of style that won't hurt your eyes in the mornings. Of course, the style of wallpaper is totally up to you. If you're going for a natural theme, then botanical wallpapers are bound to add an extra touch of nature; or if it's more of a simplistic colour scheme you're after: adding one colour wall is a wonderful way to round up a themed look.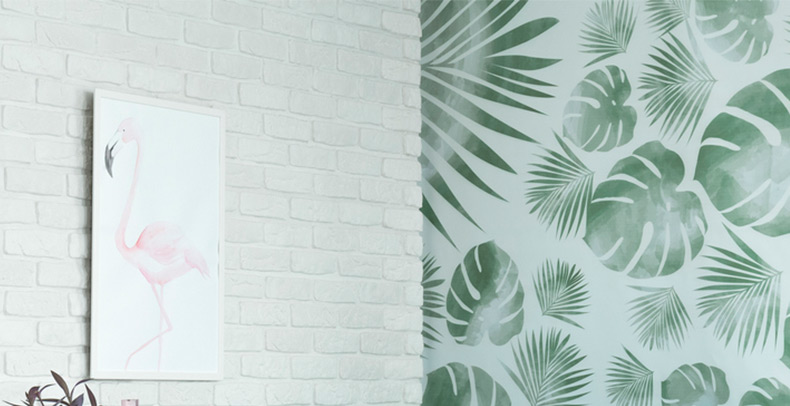 ---
Wrapping Up Bathroom Trends for 2023
There we have it - our detailed list of the wonderful designs we expect to be all the rage in 2023! We hope this article has given you some inspiration for your newest bathroom design ideas and look forward to seeing where you take your bathrooms over the next year.