Creating useful and attractive items using pallet wood is an increasingly popular trend. Whether you've been given some for free, or you've received your Tap Warehouse order on a pallet, in this guide we'll take you through how you can prepare pallets and give you some tips on how to use them.
Preparing pallets
The first step to creating your pallet masterpiece is preparing your pallets. Whatever you want to use them for, it's likely you'll need to sand, disassemble or paint your pallets in some way.
Check the suitability of the pallet
Before using your pallet, it's important to check it's safe to bring into your home and can be sanded. Some pallets may contain toxic residues or other bacteria, so care should always be taken. Always check your pallets for any stamps showing whether they've been treated and if you're not sure where the pallet has come from, don't use it. 
Sanding down pallets
If you want your pallets to have a smooth finish, you'll need to sand them down before you use them. If you're using a pallet in the garden, you can lightly sand it to remove any rough edges. If you're looking to use pallets internally or for furniture, use a medium grit sandpaper (around 80 grit) and sand in the direction of the wood grain.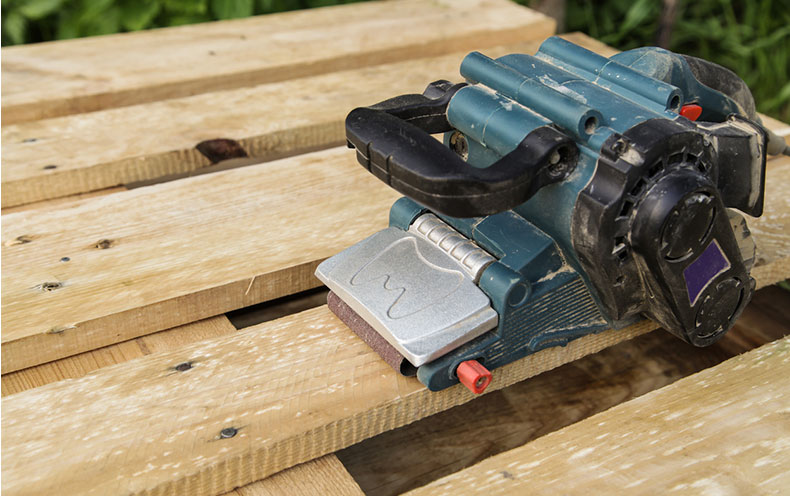 Taking your pallets apart
If you've decided you want to take your pallet apart and use the wood, you have a few different options. The simplest way to do this is using a reciprocating saw along with a metal blade to cut the nails in between the two pieces of wood. Once you've cut the nails away from the pallet, you can then use a hammer to remove them from the wood.
If you don't have a reciprocating saw or you're not confident using one, you can also use a pry bar and hammer to lift the boards apart. If you choose this option, take care not to pull too hard and split the wood.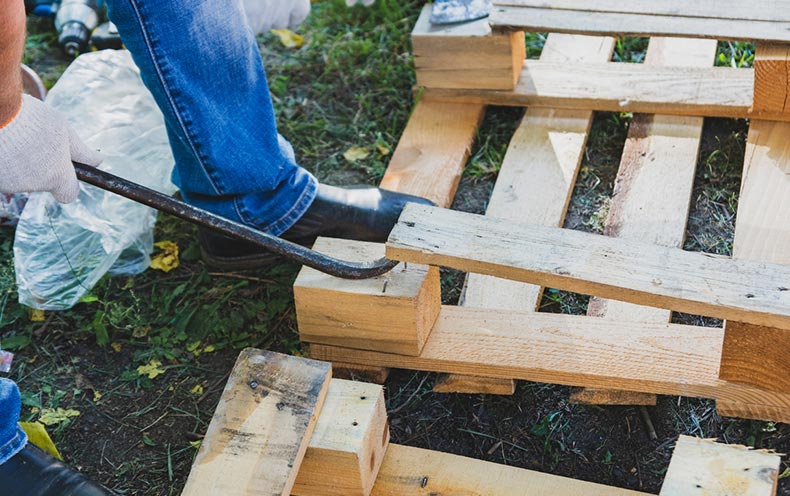 Painting or treating your pallets
Once you've sanded your pallets to remove any rough areas, you'll need to decide how you want your pallet to be finished.
No finish
If you want to use your pallets internally, you can choose to leave them with their 'natural' finish. This is ideal if you're looking to preserve a rustic look.
Wood preserver
If you're using your pallets outside, we'd recommend using some wood preserver to give them some weather protection and prevent rot. Wood preservers are available in clear or a range of colours.
Beeswax or other paints
If you want to use your pallet wood internally, you may wish to use a beeswax product which will give the wood a smooth texture whilst allowing the rustic look to come through. You can also paint your pallet with coloured wood paint if you want a smoother finish.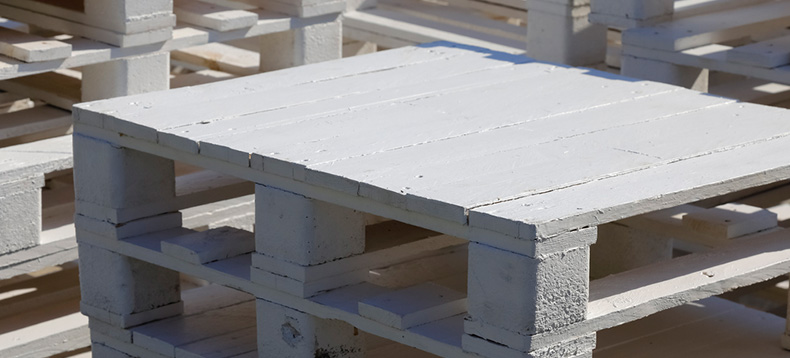 ---
Pallet ideas
Now you've prepared your pallets, it's time to decide what you want to do with them. Below we've outlined some of our favourite pallet ideas from the simplest single pallet projects, to larger pieces that will require more work and multiple pallets.
Pallet flower bed
Using a single pallet, you can create a beautiful flower bed for your garden. With the pallet standing on its side, attach 3 extra pieces of wood to the underside of the feet to hold the soil in place and you've got an attractive, rustic flower bed.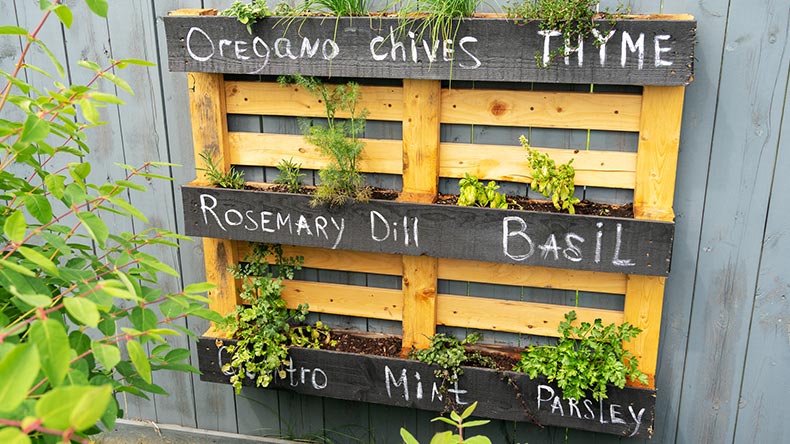 Pallet sofas
If you need some new garden furniture but don't want the huge expense, look no further than a pallet sofa. These can be created with just 3 pallets and when paired with some cushions, are a surprisingly comfortable way to enjoy the sun. Once you've created your sofas, you can also complete the look with an outdoor coffee table or even a pallet bar.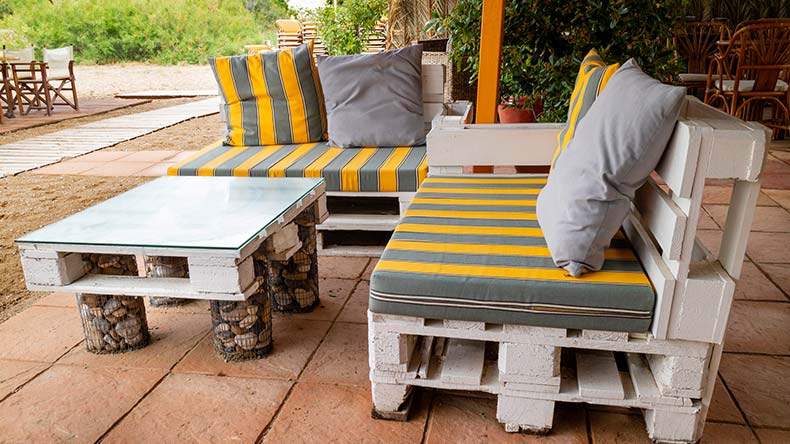 Pallet shelving unit
Similar to our pallet flowerbed idea, with the addition of a countertop, a pallet stood up on its side can make a beautiful shelving unit. Although pallets can stand up on their own, if you're going to place anything heavy on your shelving unit we'd recommend fixing it to the wall.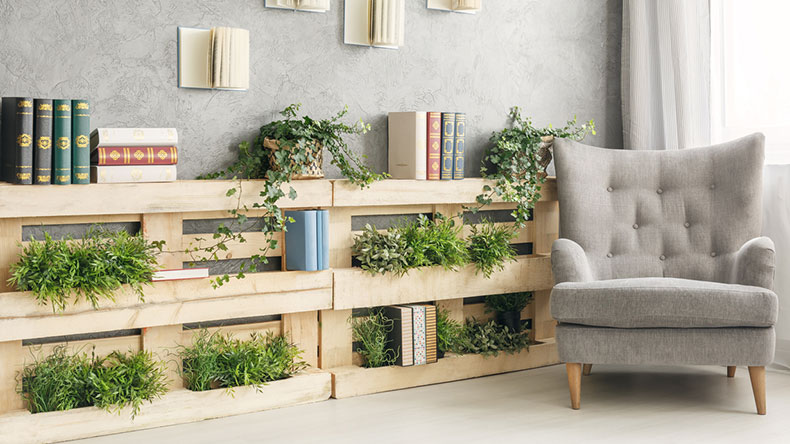 Pallet bed
A cost effective and attractive addition to an industrial home, pallets can be used to create a single or large double bed. Once you've sanded and painted the pallets, simply fasten them together then lay your mattress on top. You can also use a pallet to create an attractive headboard.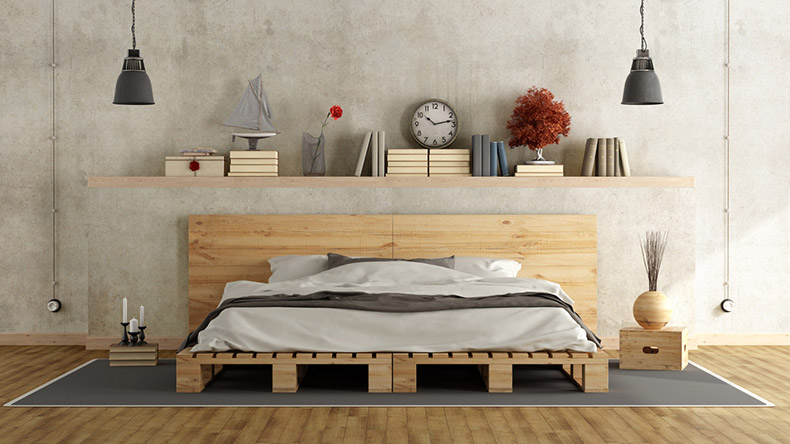 Workspace organiser
A small pallet is the ideal size for a desktop organiser. Placed behind your laptop or screen, it's the perfect place to hang photos, plants or some extra lighting. This pallet idea is particularly useful if you're renting a home and aren't able to hang items from the wall.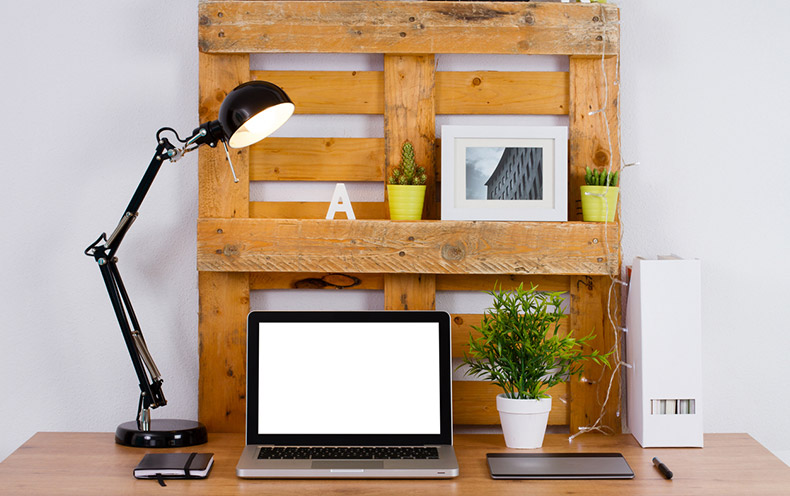 DIY shelf
Perfect for an entrance hallway, pallet wood can be used to create a rustic shelving unit. With your pallet disassembled and sanded, fasten the boards together and attach a shelf to the bottom. This can be finished with an industrial style light or a mirror.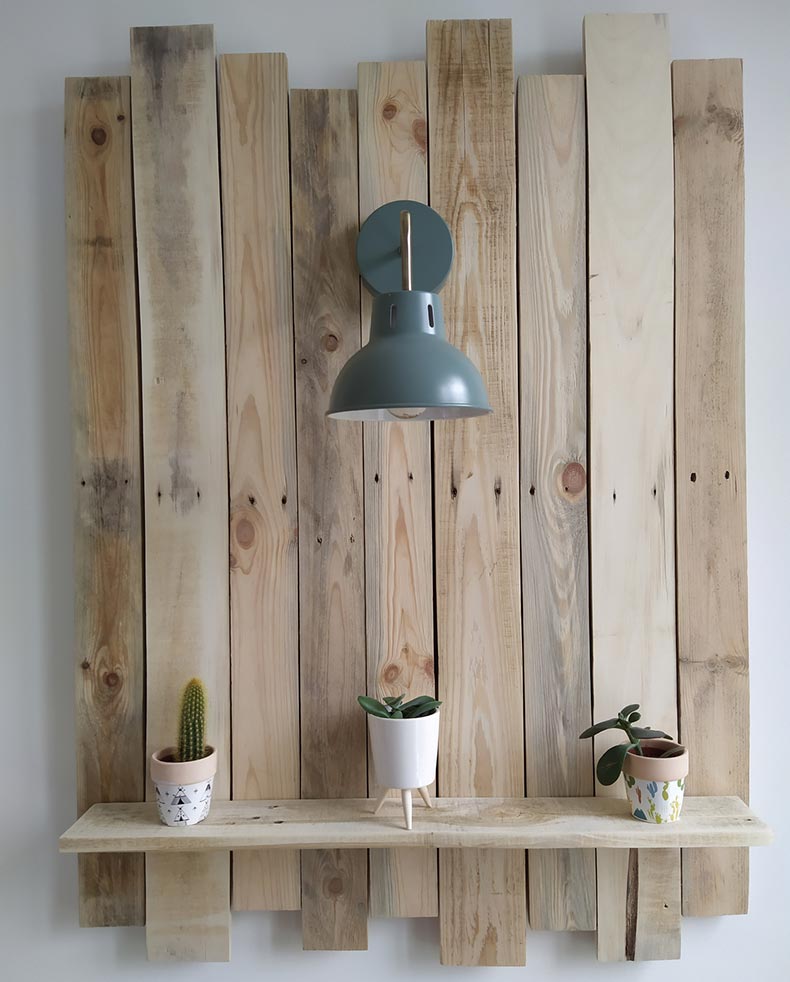 Pallet fence
A low cost alternative to traditional fences, pallets are a quick and easy way to erect a fence in your garden. Stood on their side with some supporting feet attached, they are the ideal size for a front garden fence.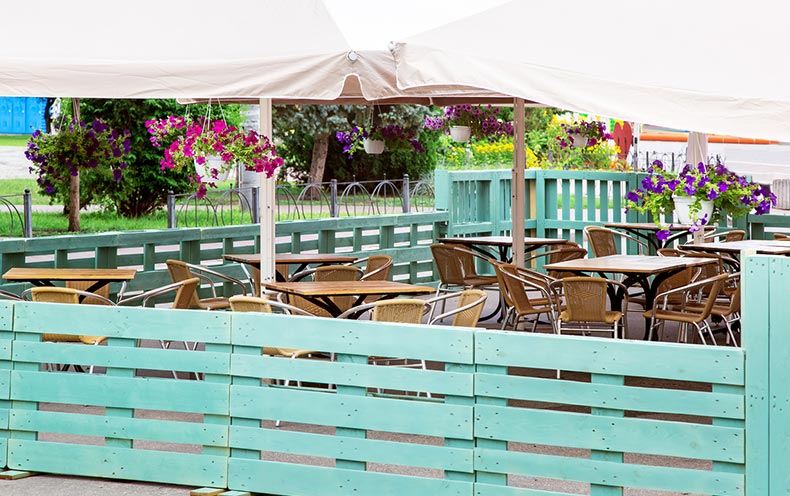 Pallet boxes
A simple DIY project that can give you some useful home storage. You'll need to disassemble your pallet, then sand and paint. Once this is complete you can use the wood to create a rustic box that can be used on the floor or mounted on the wall.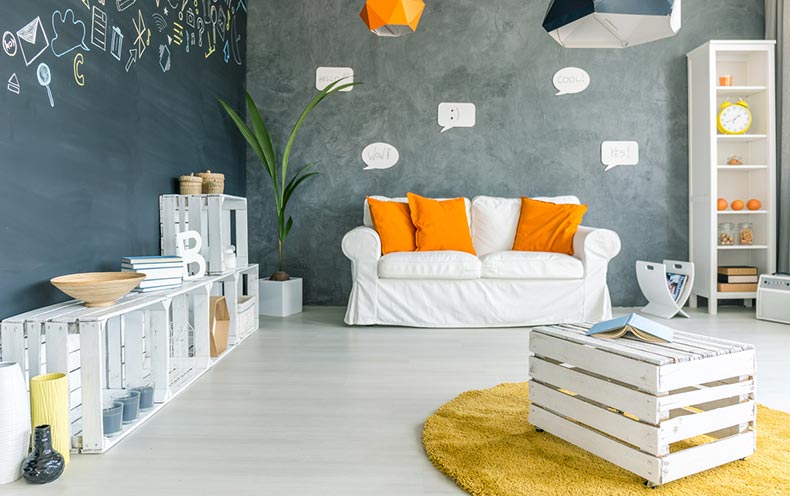 Pallet coffee table
Pallets are the ideal size for use as a coffee table. With the addition of a glass or wooden countertop and some wheels, you can create a rustic coffee table that looks great in modern and industrial style homes.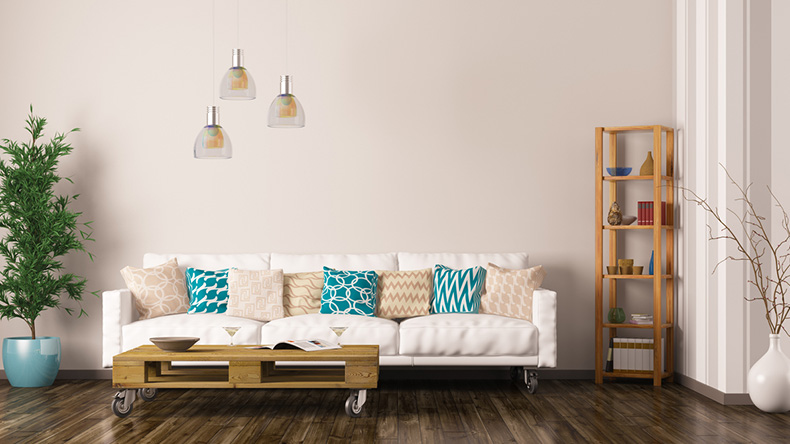 ---
Pallets are a cheap source of wood that can be easily worked into a huge number of different uses. We've only included a small number here so grab a pallet, tools, paint and get creating.