Welcome back to the Tap Warehouse blog, where this week we introduce you lucky lot to one of our very favourite cleaning companies: Full Circle Cleaning. 
We're proud to stock Full Circle's incredible range of eco-friendly cleaning products, and by the time you finish checking out the incredible cleaning products they have in their expansive range, we're sure that you'll be proud to stock them in your cupboard, too!
Cleaning Goes Full Circle
We know, we know – home cleaning products may not strike you as the most invigorating topic but they are fundamental to your home maintenance. 
After all, what is the point of buying the very best products our lovely online store has to offer if you're not going to give them the love and attention they need to keep performing their best for years and years to come?
Full Circle like to do things a little different, too, and are an inspiration to many other companies. They are a Certified B Corporation with a commitment to reduced environmental impact. That means they use less energy to create their products and emit fewer greenhouse gases in doing so. 
Full Circle's environmentally friendly cleaning products are plant-based and non-toxic, packaged in ergonomic bottles for effortless use, and feature no harsh chemicals that can harm your hands and be dangerous to children. Their environmentally conscious, intelligently designed products also biodegrade incredibly quickly, as opposed to some other products you may find in your home.
So, their outlook is commendable. But what about the performance of Full Circle's proudly eco-friendly non-toxic cleaning products themselves?
Full Circle Products
Now it's time to dive into each Full Circle cleaning product in detail so you can decide just what combination you need to conduct your eco-friendly home cleaning. 
Full Circle Wipe Out Pivoting Squeegee (White)
First up is Full Circle's fantastic white squeegee.
The Full Circle squeegee is an incredibly versatile and durable squeegee that you can rely on for a long life of effective squeeing and geeing.
It can be used to shine up tiles, glass, mirrors, shower walls and any other flat surface you encounter in your cleaning.
Its head pivots using a reliable design, its handle is ergonomic for comfortable use, and it comes with a shower-friendly suction cup and storage hook.
It's also emblematic of Full Circle's eco-friendly cleaning approach thanks to its renewable self-standing bamboo handle and recycled plastic construction.
Easy to clean using white vinegar, the Wipe Out Pivoting Squeegee shows home cleaning manufacturers how things should be done.
Available for an astonishing price and offers some truly planet-friendly solutions to every day cleaning, its no shock that the Full Circle Wipe Out has become a new customer favourite!
Full Circle Grunge Buster Grout & Tile Brush
Next up, we have Full Circle's incredibly adaptable Grunge Buster Grout & Tile Brush that will only set you back a tenner!
It has been designed to effortlessly handle the toughest scrubbing thanks to its formidable bristle combination.
Featuring tougher bristles on the inside to tackle grout, and softer bristles on the outside to handle tile cleaning effectively, the Grunge Buster is prepared for whatever cleaning task you have ahead - no matter how challenging.
Its curved design enables you to keep your hands fresh while you clean - what's not to love about an ergonomic design that looks great, and is kind to our planet?
The Grunge Buster is self-standing or can be hung via hook for quicker drying and improved prevention against bacteria spreading.
To give your Grunge Buster a little TLC and keep it clean as a whistle, Full Circle recommend giving it a small splash about in some hot soapy water for the best results.
Once again, Full Circle have constructed this fantastic brush from bamboo and recycled plastic so that you know when you use their products you are doing your bit to preserve our planet's valuable ecosystem.
What do Full Circle Use?
You often see companies claiming to be environmentally conscious but then fail to provide any information on what actually goes into their products. 
Full Circle show those companies how things should be done with their totally transparent approach and full listing of all eco-friendly cleaning product ingredients.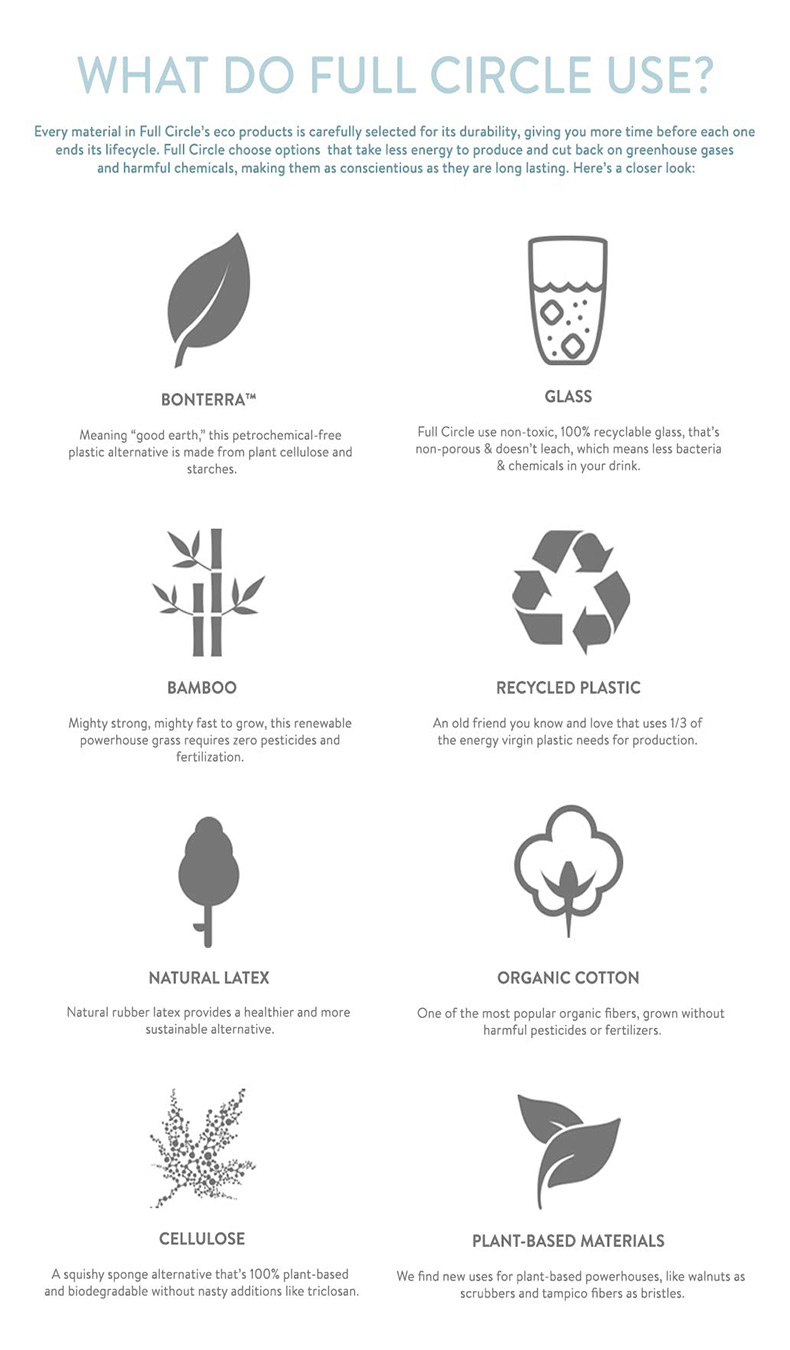 Full Circle's Full Range
We hope you enjoyed this brief foray into the remarkable eco-friendly cleaning products supplied to us by Full Circle. We really dig the products they create, yet even more so appreciate their environmentally conscious approach to everything they do.
In this day and age, it has never been more important to protect the planet around us. Brands like Full Circle show us that, while we as a species have not always valued the delicate nature of our world, it is never too late to begin trying to make a difference.
Support Full Circle and their sustainable ethos by checking out their full range of environmentally conscious cleaning products available right now. 
Here to Help
As you know, our friendly support team are always on hand to give you the help that you need. No question is too small, no query too specific. 
So, whether you have a question regarding one of Full Circle's fantastic eco-friendly cleaning products or would like to know anything else to do with the world of designer taps, just reach out to us here. 
We can't wait to receive your question and help you out.