Traditional bathroom design offers a timeless elegance in your home that promises to elevate your style and have guests turning green with envy! Whether it's a touch of nostalgia you're after, or if you're living out those dreams of a traditional cottage bathroom - we've put together this handy guide to perfecting the victorian style bathroom.
Of course, our wonderful brains do sometimes associate the notion of traditional with older, potentially outdated quality, so we'd like to reassure you that whilst our striking period bathroom products do resemble a classic bathroom, they're as modern as can be when it comes to function and technology and certainly won't be letting you down any time soon!
Traditional Bathroom Furniture
Our first port of call is traditional bathroom furniture. When designing classic bathrooms, as with all bathrooms, you probably don't want your toiletries and cleaning products on display, so opting for a stylish storage space is a wonderful way to hide the essentials and maintain the traditional bathroom look. 
Keep things neutral with a vast array of sizes and sleek monochrome colour schemes for a touch of elegant simplicity. Whether you're after a floorstanding, wall mounted, or corner traditional furniture unit, there's a whole host of sublime choices that promise an extra splash of luxury in your bathroom.  Pair a minimalist grey vanity unit with a classic chrome mono basin mixer tap and bask in the luxury of a statement period pairing.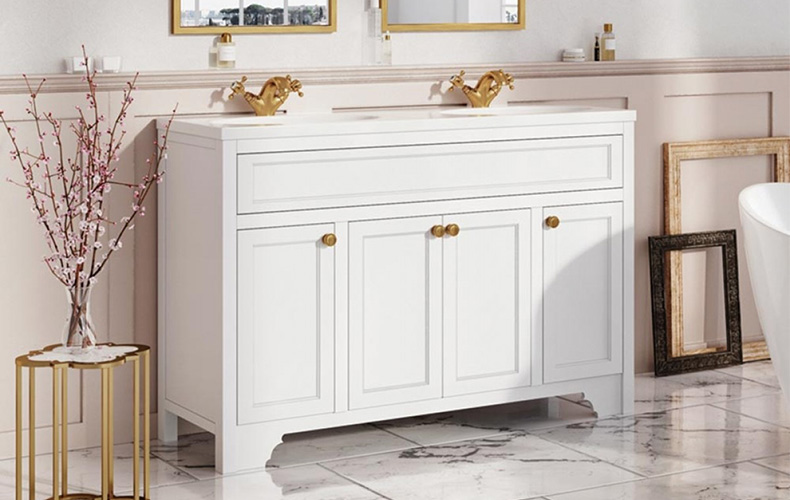 Traditional Basins
For a victorian style bathroom look, a great way to express your style is with a full pedestal basin. These captivating basins offer a classic touch that hides those less attractive piping elements with a sleek, minimalist white pedestal.  
Of course, if you're not a fan of the full pedestal look, or are simply designing a small bathroom, opting for a wall mounted basin with an exposed bottle trap is the next best thing! Wall mounted to create the illusion of extra space and perfect for pairing with a set of chrome basin pillar taps, the period wall mounted design keeps the traditional feel in your bathroom without taking up all of your space.
Traditional Taps
Here's another to add to your list of traditional cottage bathroom ideas: bathroom pillar taps! The devil really is in the details when it comes to bathroom design, which is why we recommend paying close attention to your desired aesthetic, even in smaller elements such as your bathroom taps.
Pillar tap pairs promise a striking bathroom aesthetic that's bound to remind you of your childhood home. Promising a long lifetime of elegant victorian style, pillar taps come as a pair to give you precise control over both your water temperature and flow in order to achieve your desired basin tap experience. Opt for a period crosshead or lever style and enjoy a design with modern inner-workings built to stand the test of time.
Traditional Toilets
Classic bathrooms are well known for their statement toilets thanks to the mesmerising high-level design. We offer a whole host of high level toilets bound to add a touch of regal style to your bathroom. Previously used in old victorian homes for their function, with water pressure for flushing being created by the water falling from the high cistern to the pan, these classic style toilets are now equipped with modern technology but continue to offer the same striking traditional statement.
Naturally, we don't all have super high ceilings and tons of space in our bathroom to accommodate a high level toilet, so those of us that are still striving for classic bathroom ideas shouuld seek a low level toilet instead. These vintage beauties are, simply put, a smaller version of high level toilets, and complement traditional bathroom furniture just as beautifully.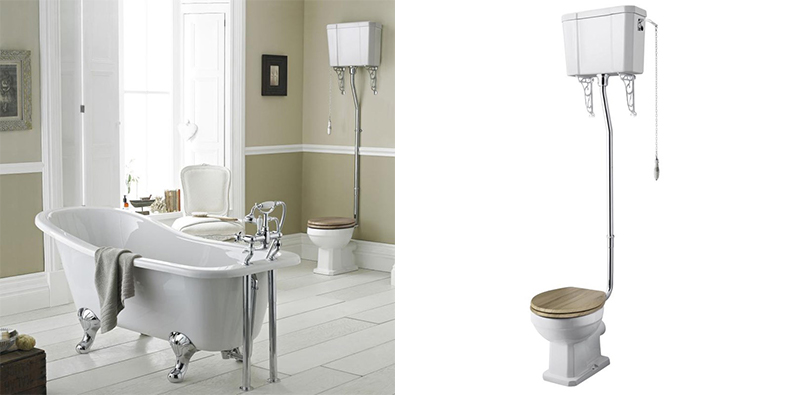 Traditional Towel Rails
When it comes to hanging towels in your victorian style bathroom, there's no need to simply settle for a mundane towel bar when you can get your hands on a gloriously cosy traditional heated towel rail. 
Available in a variety of different designs to suit your space, add a minimalist floorstanding heated towel radiator, or opt for a more statement wall mounted heated towel rail to use up some empty wall space. What's not to love about keeping the classic look and enjoying a touch of modern heating technology to keep you warm on those cold winter mornings?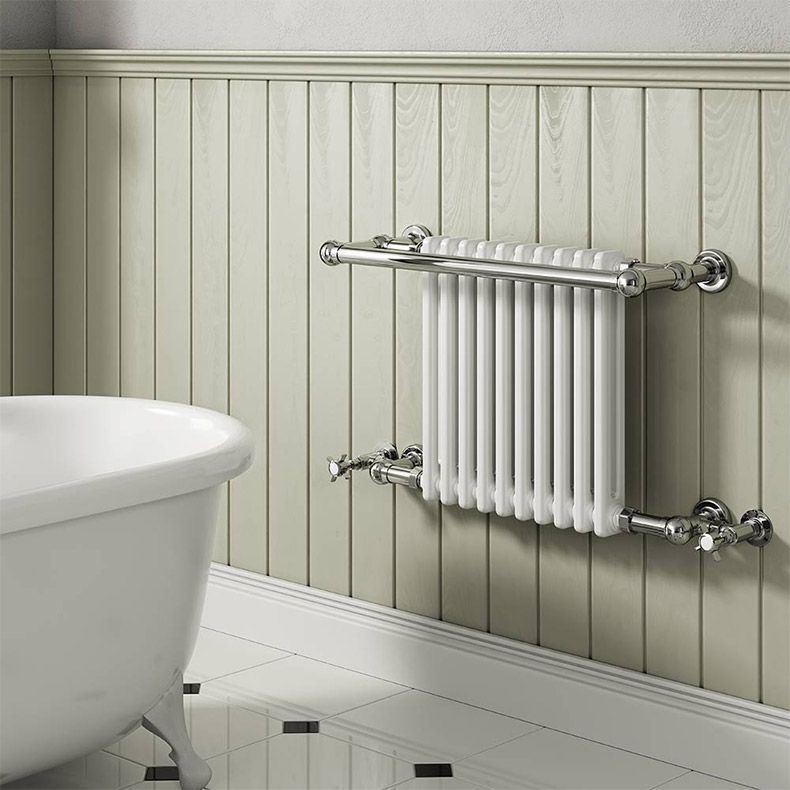 Traditional Bathroom Accessories
Traditional bathroom accessories are the proverbial cherry on the cake when it comes to designing a victorian style bathroom, so we'd recommend adding a splash of regal elegance here too. Take for example, a touch of crystal in your toilet brush, or a pairing of nickel and ceramic in your soap dispenser; it's all about keeping things minimalist and elegant so as not to draw attention away from your sublime traditional furniture and ceramics, but instead to complement them beautifully.
The possibilities are endless when it comes to bathroom accessories so you're certainly spoilt for choice in this department. Don't worry though, if you stumble across one piece and fall in love, there's sure to be a full matching range to take care of all of your accessorising needs.
Traditional Showers
Now we move on to traditional showers.
Although showers may seem like a modern invention, there are a fantastic range available which will help you enjoy the convenience of a shower with a gorgeous traditional look. Look out for traditional shower heads paired with a set of classic levers.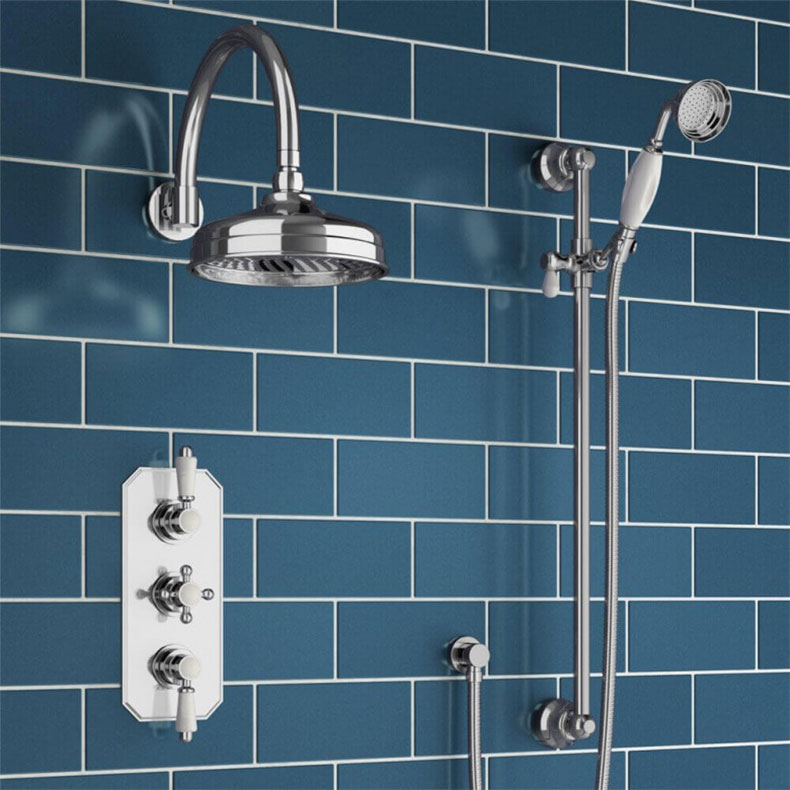 Traditional Bathroom Tiles
When it comes to traditional bathroom tile ideas, your main focus should be complimenting your furniture and ceramics. If you've opted for a light grey vanity unit and monochrome toilet and bath, you're probably going to be after a black and white pattern or chequered tile, rather than any huge pops of colour.
On the other hand, if it's a more minimalist, understated traditional aesthetic you've chosen, then adding in a splash of pizzazz in your bathroom tiling is an excellent idea. Pair traditional white furniture and ceramics with a statement regal green or blue tile for a touch of period personality.
The sky's the limit when it comes to traditional bathroom tiles so from your greys to your bright pinks, you're bound to find a shade and pattern that suits your style.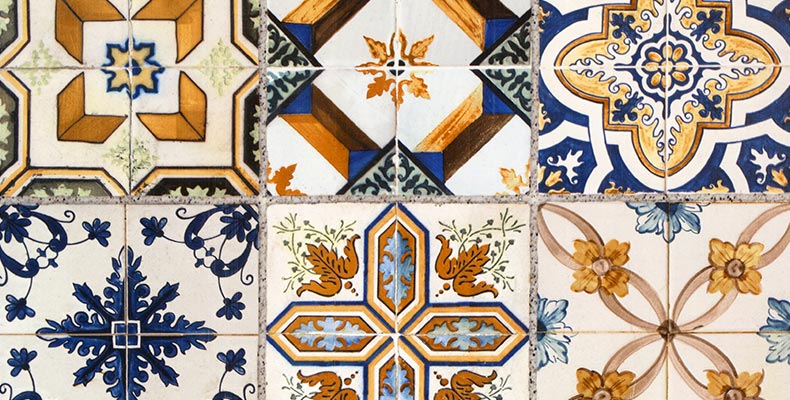 Traditional Bathroom Lighting
For that final period glow, take a look at some traditional lighting ideas. When it comes to traditional style, fan favourites include pull cord lighting and shaded lights for a minimalist approach. It's unlikely you'll find a huge, fancy chandelier in a classic bathroom so more often than not our customers opt for a more understated look. That's not to say that if you're looking for some serious "wow" lighting you shouldn't go ahead, of course! Nothing's more impressive in bathroom design than adding your own touch of personal style. 
---
Traditional Bathroom Ideas
So there you have it, the full low-down on all of the components needed to design the perfect traditional bathroom! We hope you've fallen in love with some of our top picks, and enjoy taking a look through our traditional collections and Burlington range. As always, if you have any questions don't hesitate to get in touch and our wonderful team would be more than happy to help you along your traditional bathroom design journey.