Choosing to add an ensuite into your home is a fantastic idea -  full-stop. But what if you don't have enough space for one?
Think again - we've put together some small ensuite layouts and space-saving ideas to inspire you to create a beautiful en-suite bathroom with minimal effort.
Small ensuite bathrooms are really becoming the norm in many new builds which incorporate them as standard for the master bedroom. Once you've tried an ensuite, either at home or in a hotel, you'll never want to go back to shuffling along a dark hallway in the middle of the night. If you need even more incentive to invest in an ensuite: they are one of the best ways to add value to your home.
"There's no space for one" you say?
Don't panic. If you already have the perfect room for a small ensuite, or you really want an ensuite but you're just unsure of where you can fit one, this article will help you generate some design ideas to help you fit an ensuite into a small space. First we'll cover some important benefits of choosing an en-suite bathroom, followed by a few smart ideas on how to make the most of your space and some of the best en-suite showers, toilets and bathroom furniture to go for.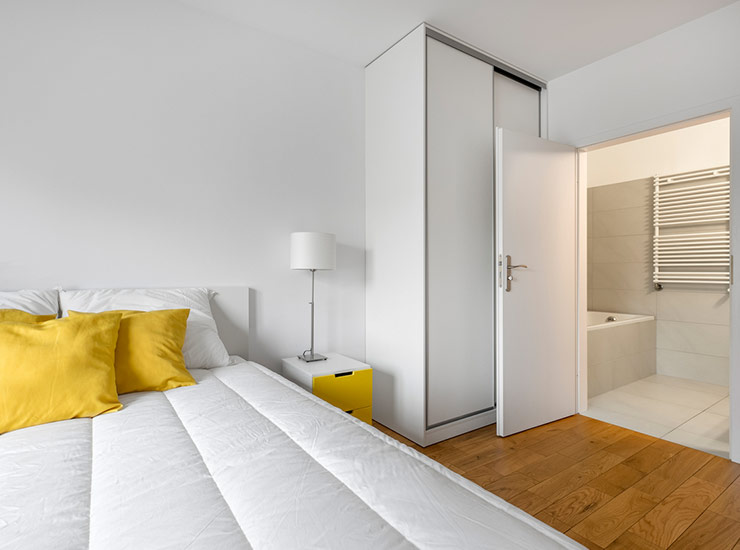 Benefits of an Ensuite
Boost Value and Demand for your Home
Small ensuites can dramatically improve the standard of your home, therefore adding to the value of your property and will then in turn, increase the demand for your home if you ever decide to sell.
Private Space for More 'Me Time'
If you are currently sharing the family bathroom, you're probably sharing the space with other members of your family, so it more than likely that you desire your own small ensuite, where you can design and display everything exactly as you like.
An ensuite is more private and personal. You can create your own atmosphere as there is a lesser chance that members of the family or guests will use it.
A Valuable Time Saver
If part of your morning routine is waiting around for the bathroom to be free for you to get ready, having an ensuite will save you a lot of time.
If you've got kids, as they get older, it is without doubt that their time in the bathroom will get longer. Having a small ensuite will speed up your morning routine and will make all the difference between being late and being on time - whether that be getting to work or getting the kids to school.
So now you're aware of what you're missing out on, let's get to the useful stuff - ensuite bathroom ideas !
A Small Ensuite in a Cupboard
It was good enough for Narnia and it's perfect for an ensuite.
Older houses often have built in cupboards which are used for either storage or wardrobes. These same cupboards can easily accommodate a shower, and then all you need is a little space for the toilet and the sink.
Ensuite in the Corner of Your Room
Placing a toilet in the corner of your master bedroom - it doesn't sound ideal at first. But, with clever use of a glass panel or screen, a corner toilet can easily be incorporated in the corner of a master bedroom with minimal fuss. Here are some of our favourite corner picks:
A Mini Ensuite in an Alcove
Like pennies in the couch, if you root around and turn over a few things, there's treasure to be found. Your prize to find - floor space.
Older houses often have alcoves, so rather than jamming a dresser in it, you can harness this valuable space by using it as a foundation for a small ensuite. You'll be surprised just how little floor space you really need.
Ensuite in the Fireplace
Chimney sweeps lament, that huge pile of bricks in your bedroom is probably a waste of space.
If you have a chimney breast in the bedroom that is no longer in use, this can be taken out to create more space that you can then use for your ensuite. This will be a messy job, but a really messy job that's worth it. You'll be surprised by how much space the leftover hollow tower of soot can take up. Incorporating a vanity unit into this alcove space is just perfect for making the most out of the area,  especially when paired with a beautiful countertop basin and wall mounted basin tap to boot.
Shop for Cloakroom Bathrooms
For a small ensuite bathroom, it makes sense to shop for products specifically designed for small bathrooms and cloakrooms, so "cloakroom basins", "cloakroom toilets", etc are the sort of things you should be on the lookout for. Below is a selection of some of our en-suite bathroom bestsellers and favourites to inspire your inner interior-designer. Take a look at some of our cloakroom favourites below.
Make It Happen
If you want a small ensuite, you can make it happen. With careful planning and consideration you can make use of new designs and product to expand any space.
If you are building an ensuite from scratch, it is paramount that you check your building regulations. All electrics, plumbing, ventilation, drainage and glass used me regulations and UK safety standards. You can check here for building regulations and how to apply for them.